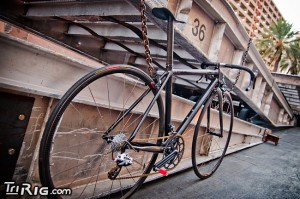 I have posted some pretty light bikes in the past. In 2006, this 7-pound Crumpton fixie seemed unbelievably light to me. A couple years later, German cyclist Gunter Mai built a geared road bike that was roughly the same weight (3195 grams). Gunter didn't just built that bike for show either… he claimed to ride it up to 1,000 kilometers a week. According to a post on TriRig.com though, Gunter is no longer riding that bike. He parted it out online earlier this year. Some of those parts, including the custom Spin frame and THM fork, were sold to a Colorado rider who sent them to Jason Woznick of Fairwheel Bikes in Tucson to build into an even lighter road bike (that is now spreading around the Internet like wildfire).
[more via Bicycle Design. View original post.]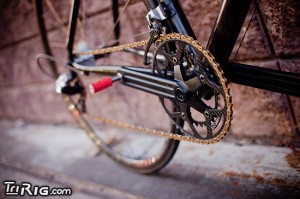 VeloNews has a gallery of shots of Woznick's one-off 6-pound (2700 gram) bike that were taken at Interbike last week. The TriRig post that I mentioned previously also has some great detail shots of the bike, and they discuss how it came to be and where some of the parts came from. Many of the parts are custom, but TriRig points out that the prototype carbon Dash hubs on the bike are going into production in 2011 (30 grams for the front and around 99 for the rear).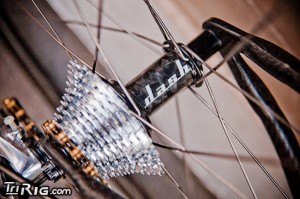 So… if the pattern continues and people keep pushing the limits, I'll be posting a custom 5-pound bike in a couple years. What do you think? Where is the bottom limit for road bike weight? As much as my pals at the UCI won't like it, I don't think we have seen it yet.

[more via Bicycle Design. View original post.]