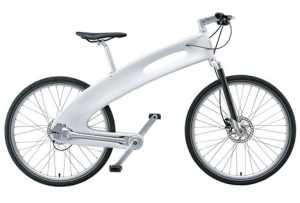 I usually like the work of Ross Lovegrove, or at the very least I usually find his sculptural designs interesting. The clean, organic forms of his product and furniture designs are often pretty clever and original. That is why I was a bit underwhelmed when I saw his first bicycle design for Biomega, the Bamboo. Lovegrove's latest design for Biomega though, called the LDN (short for London), looks a lot more like something I would expect from him. Overall, the form is not groundbreaking, but I like the way the shaft drive nestles into the carbon chainstay.  The hole in the frame lightens the bike's mass and, according to the company, provides a detail for hanging the bike on a wall for storage. Like it or not, you have to admit that this one finally looks like a Lovegrove bike.
[more via Bicycle Design]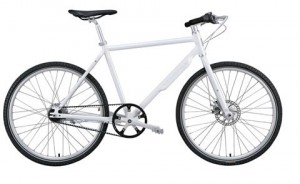 The other new bike from Biomega, the NYC, was designed by KiBiSi, a design firm co-founded by Biomega founder, Jens Martin Skibsted. The bike is similar in styling to their CPH model, but it features a carbon belt drive and an integrated front mudguard in the shape of the aluminum downtube.
The LDN bicycle will be displayed next month at the SHOWHOW design exhibition in Tent London (September 23rd to 26th 2010) and both new bikes will be presented at the Eurobike and Interbike shows in September.

[more via Bicycle Design]